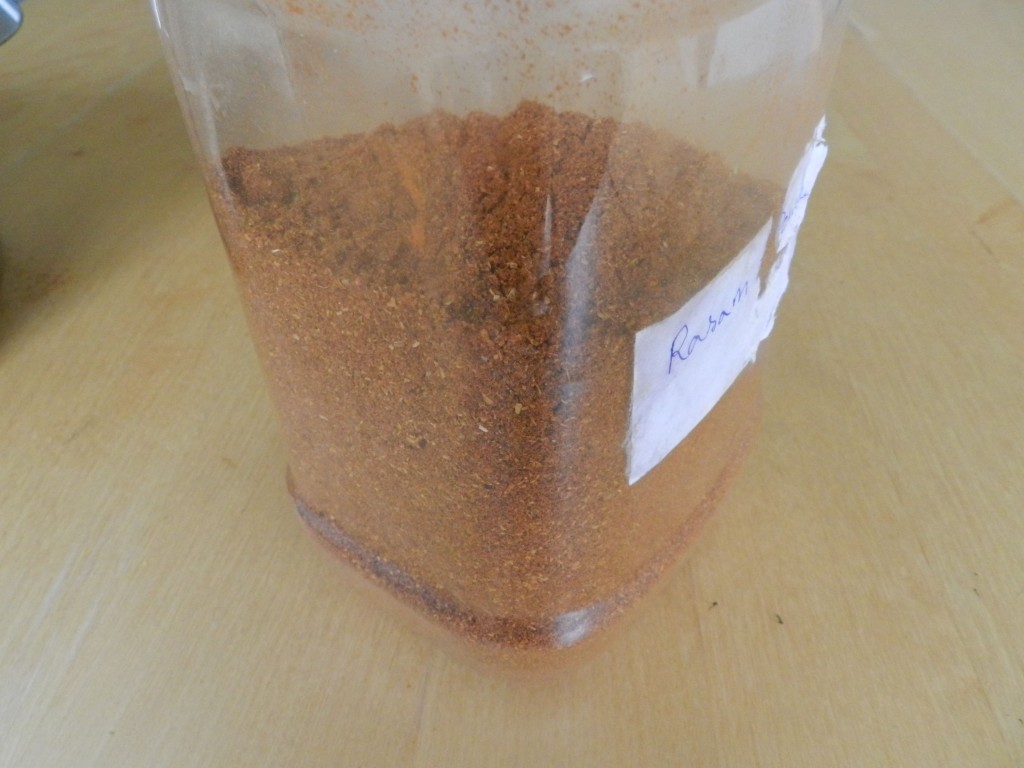 There are as many varieties of rasam as there are people. It's true only because, in all my years, I have never tasted two rasams that are alike.
First, there is the variety itself – everything from standard tomato, to the regional pepper, to the exotic pineapple, pomegranate, and even beetroot! Then there is the technique within each variety that can vary as well. Even the standard can be different depending upon homes and regions. Lately, in the interest of saving time and effort, Srini and I have figured out two different ways (!!) of making the standard tomato rasam without dal and the powder (my mom's home-style) . Still, on perfectly lazy days, when I long for rice and rasam, the only thing that comes to mind is my Mom's home style. Ever scared of running out of powder, I have at least four packets of powder going all the way to 2009 in the freezer, which makes Srini constantly whine. Fair enough, because who wants to eat rasam made of old powder, though they still taste AMAZING and that is enough for me to NEVER throw them out!
In fact any rasam that uses powder, needs to make sure that the powder works, else you might as well drink plain old hot water. That's the magic. Needless to say, the highlight of my mom's rasam is the powder (hence the large quantities of it lying in my freezer). Here's how perfection is achieved. The star ingredients are: black pepper, cumin seeds, fenugreek seeds, curry leaves, coriander seeds, dry red chillies.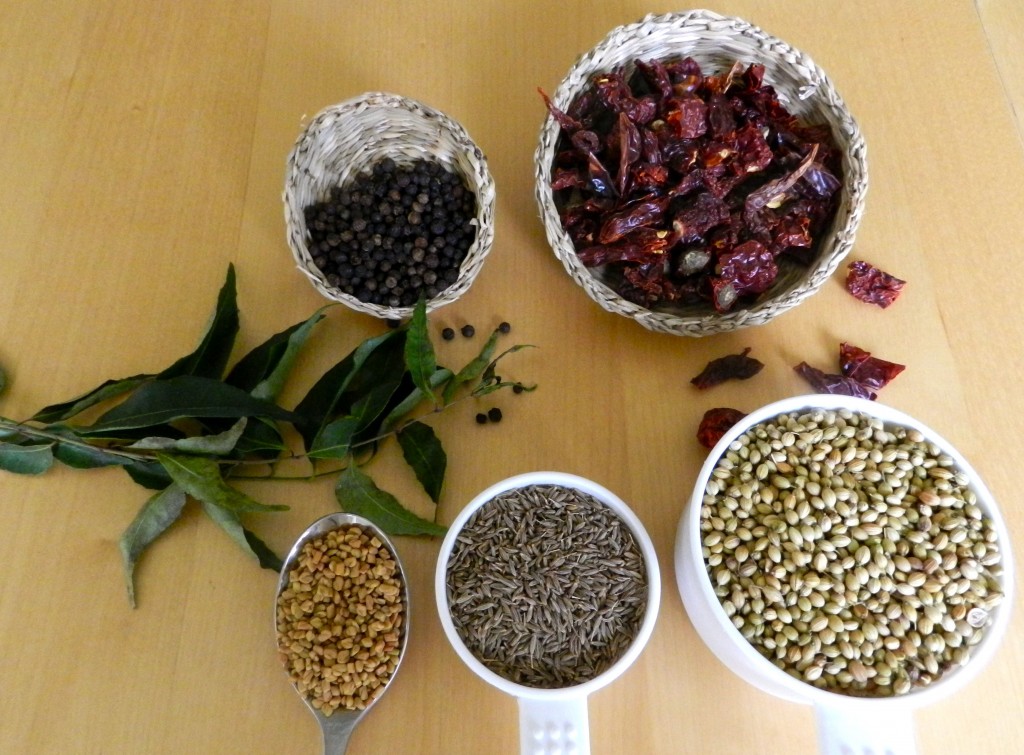 You will need to fry each of these individually. First, take a little oil (a healthy couple of swirls in the pot/pan should do).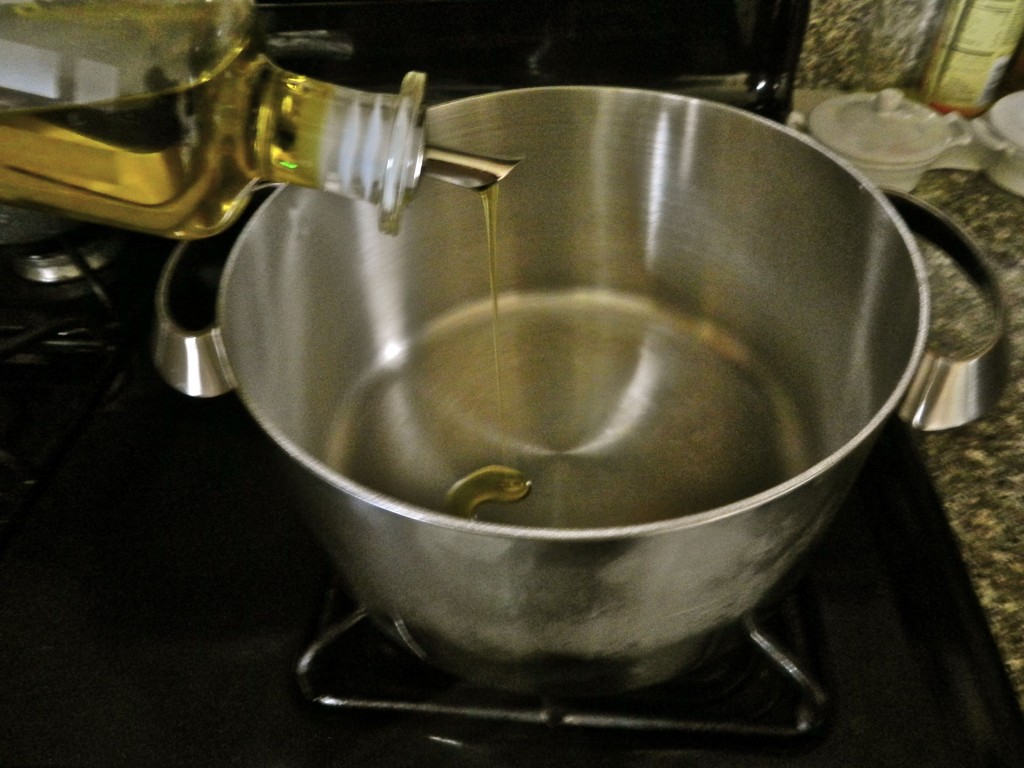 Break up the dry long red chillies and throw it in the pot with the hot oil.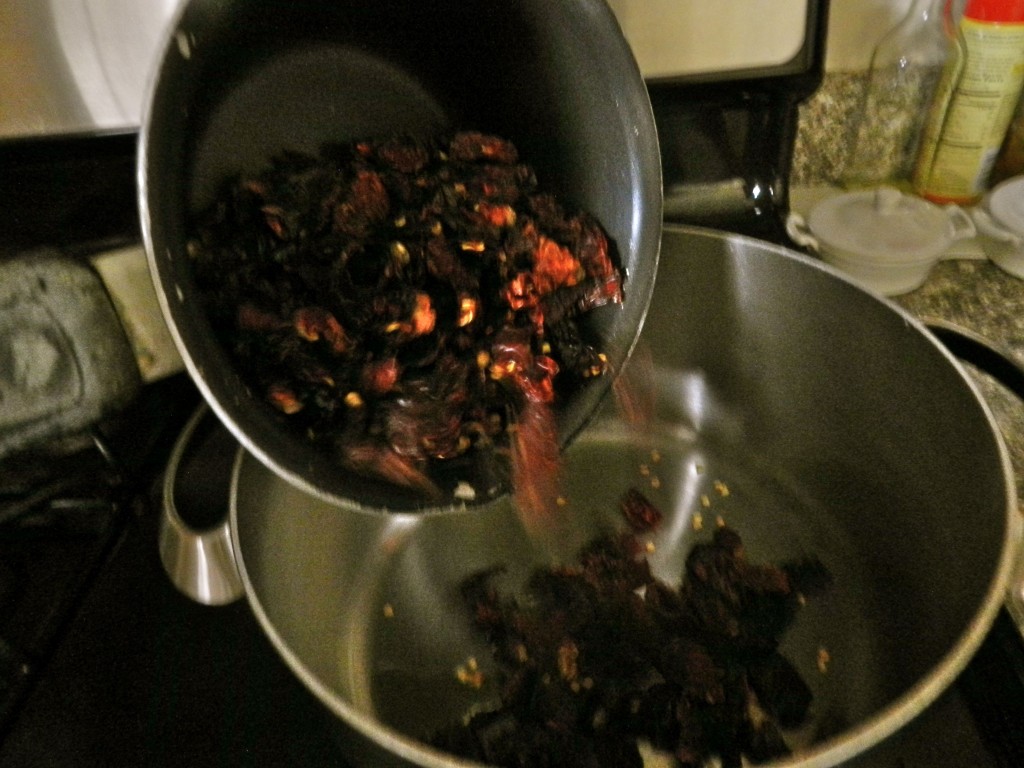 Stir it for a few minutes, till the oil has coated all or most of the chillies. After about roughly 3 minutes, the red chillies give out a nice roasted aroma. Another tell-tale sign that they are done is the fact that all the seeds that were yellow ochre in color…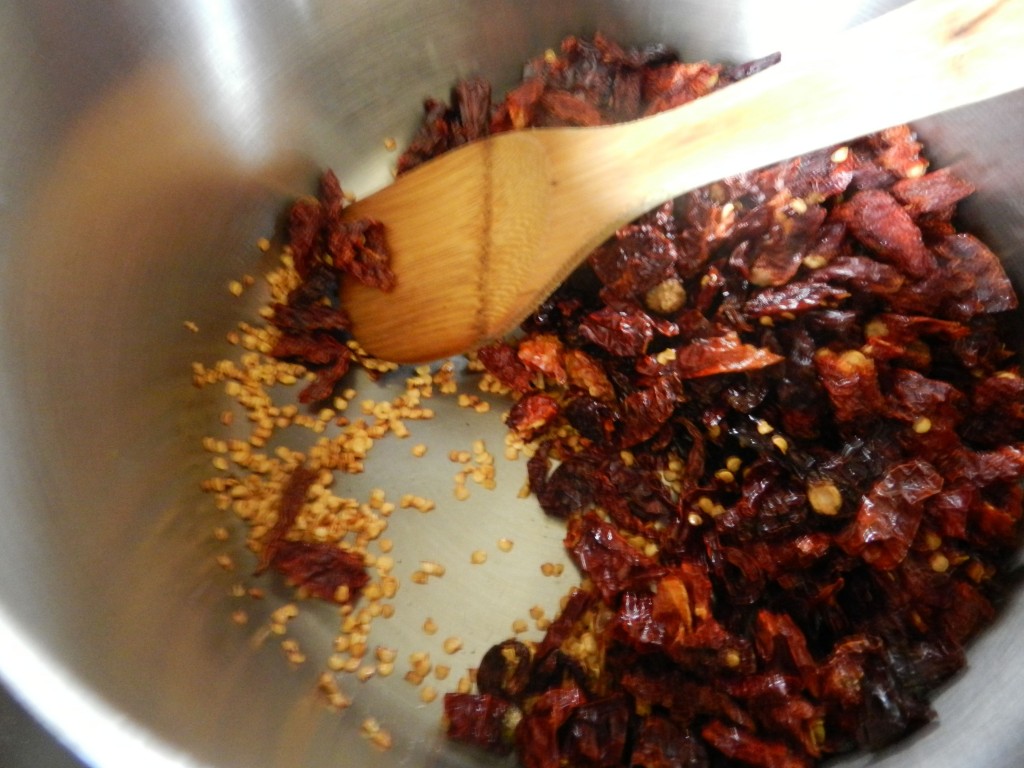 …turn brown on roasting. The red chillies turn a deeper and darker shade of red. But make sure you don't over roast, since they can get burnt in a jiffy. So, pay attention to the entire roasting process.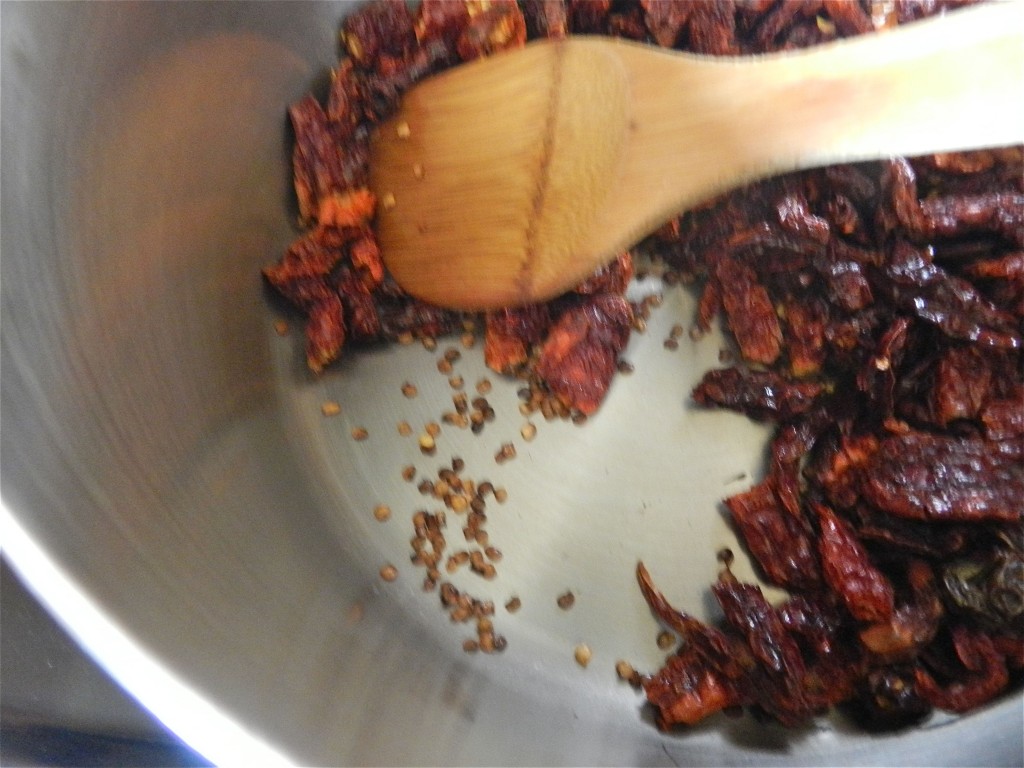 Now remove the pot from flame and dump the roasted chillies onto a plate. Let it cool while you roast rest of the ingredients.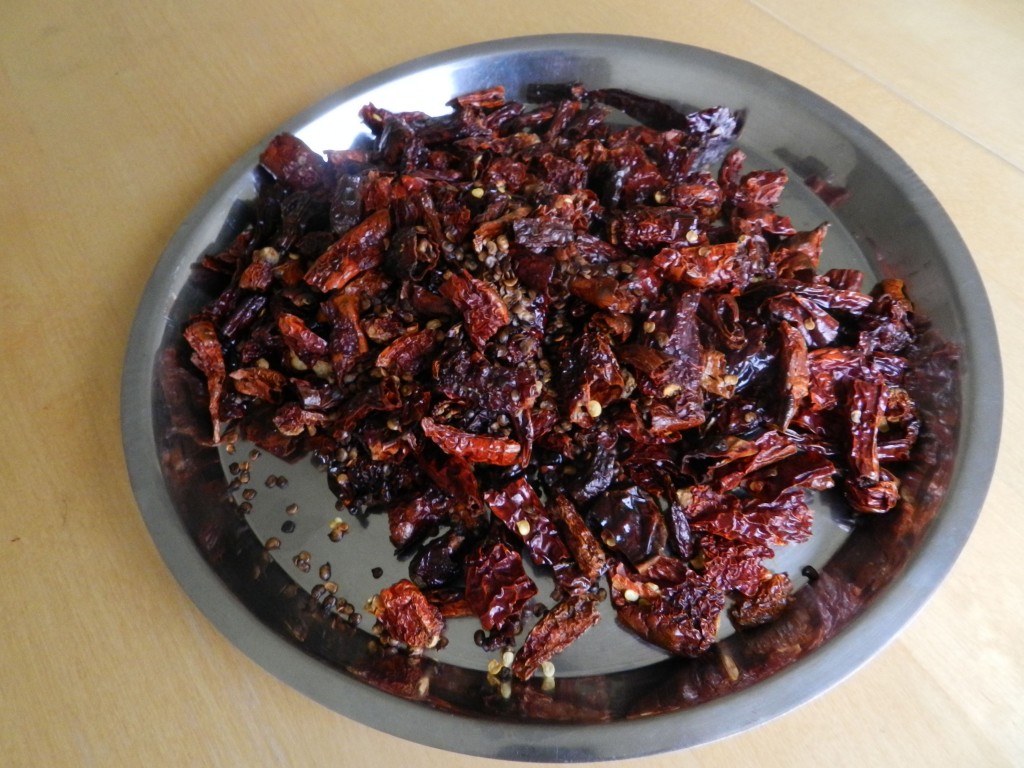 To the same now empty pot, pour some more oil and throw the coriander seeds…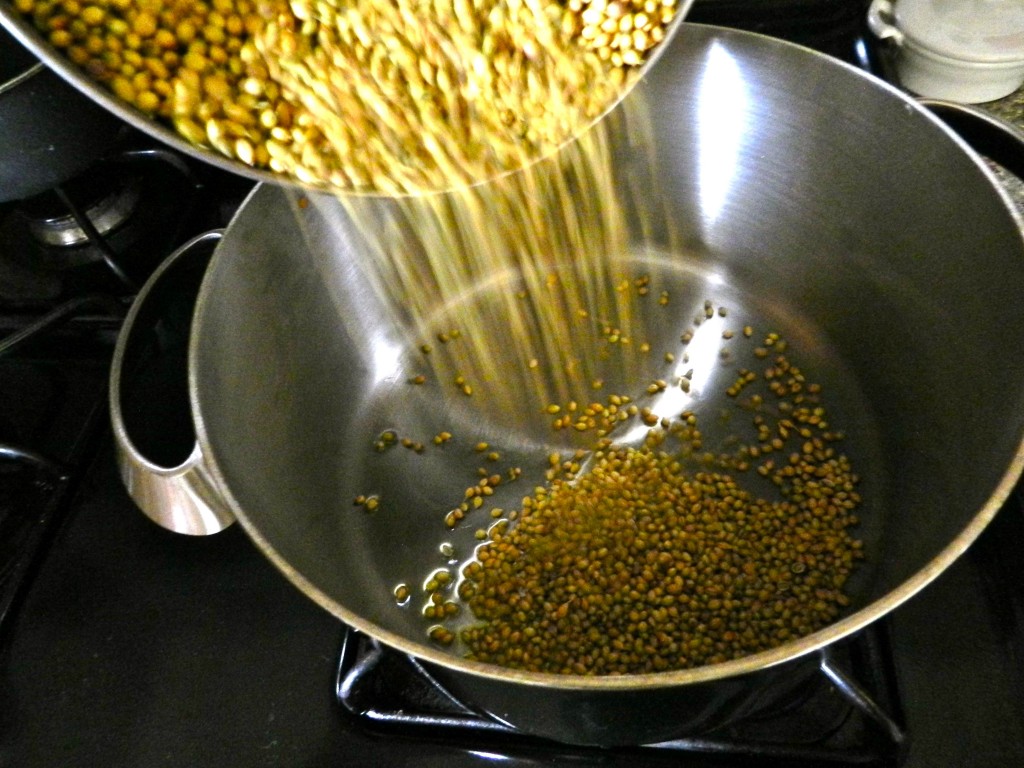 … along with the curry leaves.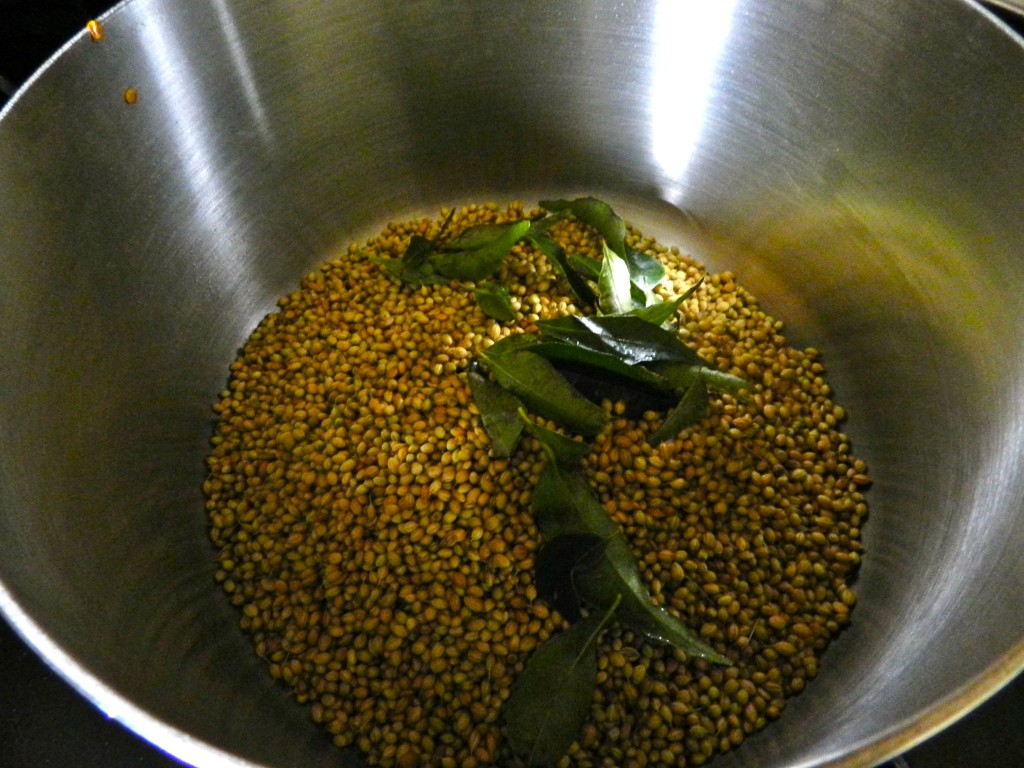 Roast till the coriander seeds turn golden brown and the leaves curl, releasing an insane aroma that fills your kitchen.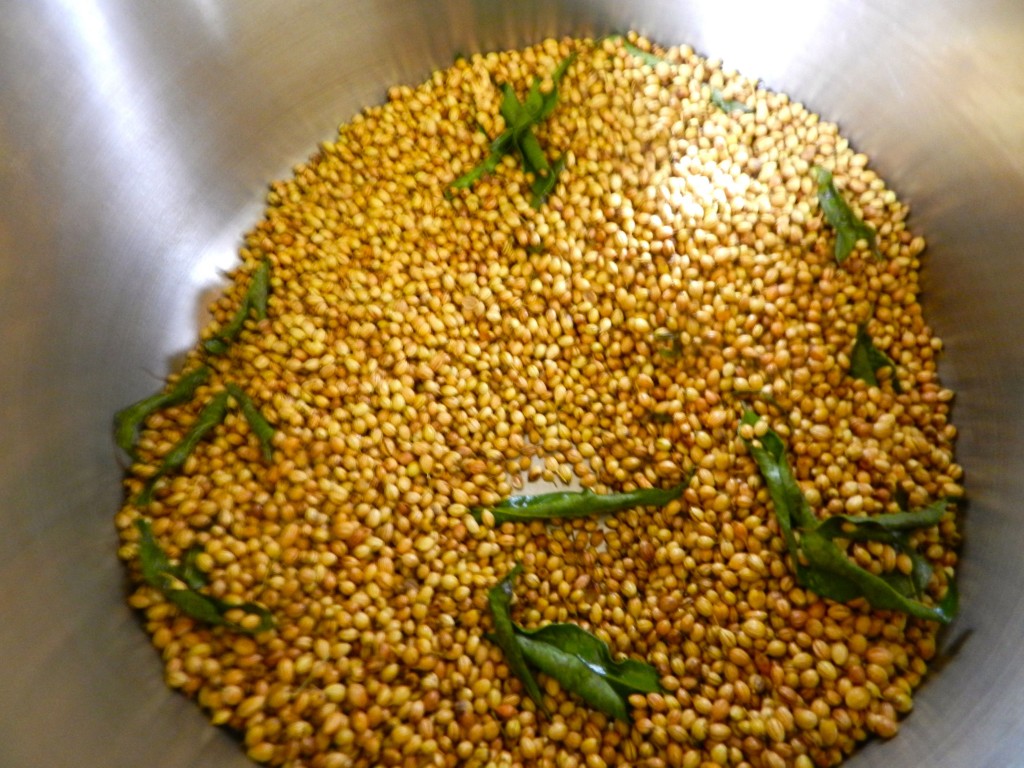 Remove from the pot and empty it onto a plate. Now with a little bit of oil, successively roast black pepper and stir till they start popping…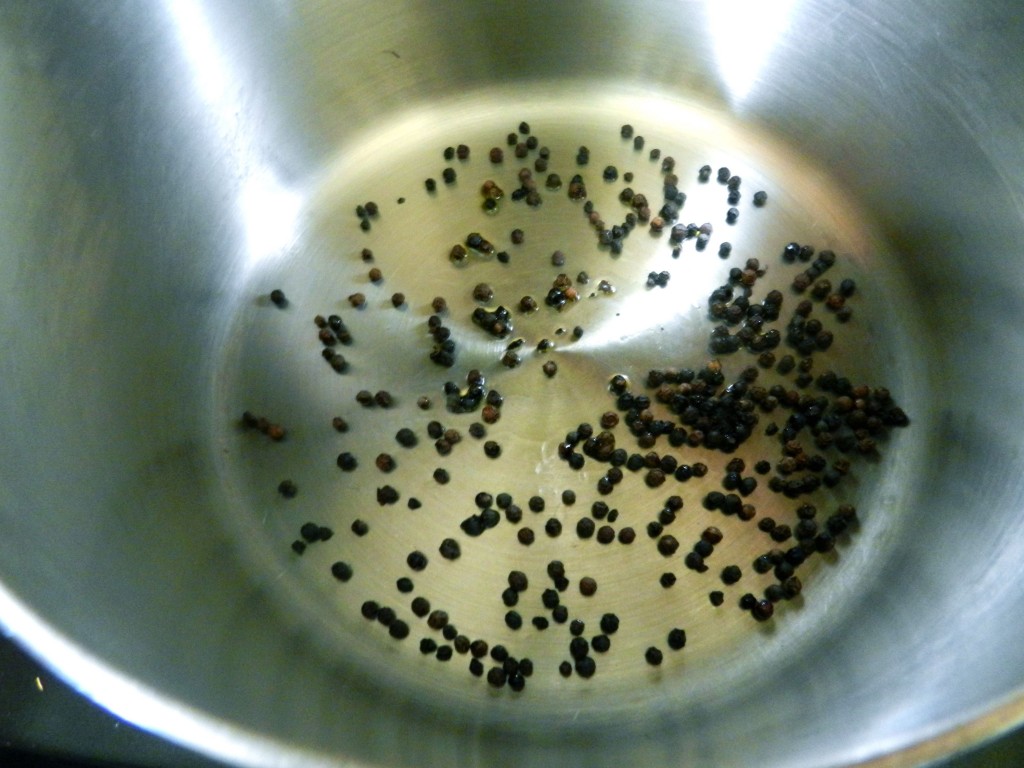 cumin seeds and stir till they start turning red……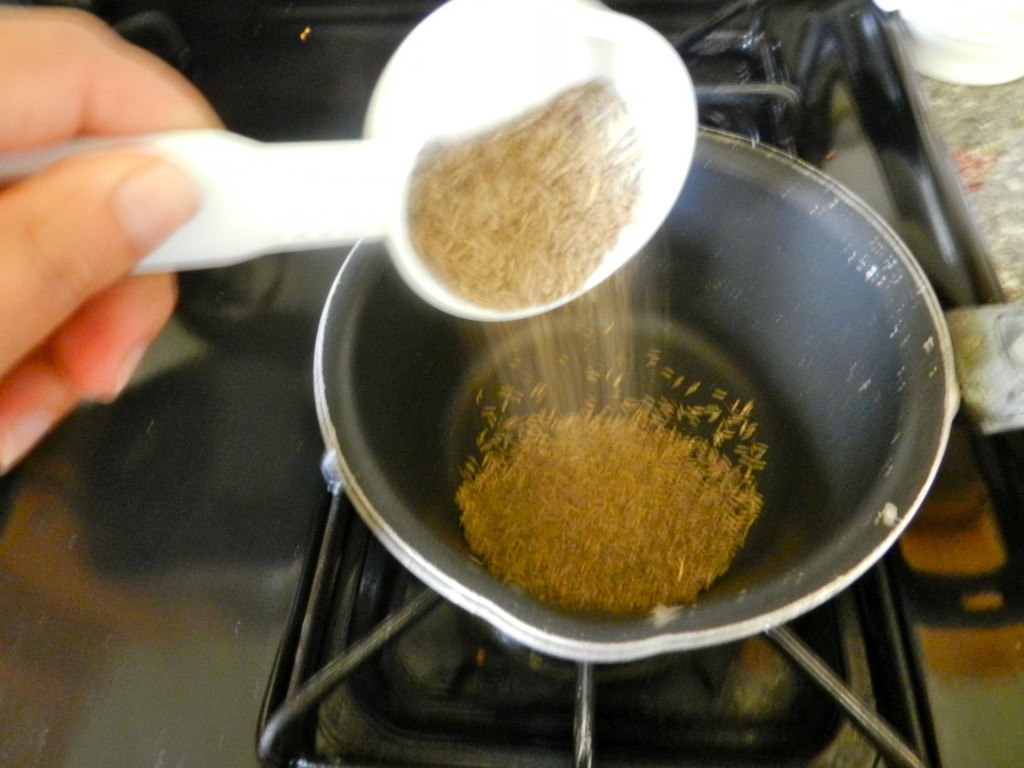 …, and fenugreek seeds and stir till they start turning red (not necessarily in that order). Note: Since each of them cook at a different temperature, it's advisable to roast them separately in order to prevent any of them from burning up. It is not necessary to roast the cumin and fenugreek seeds in oil. Dry roasting them on their own will work.
Lay those out to cool as well.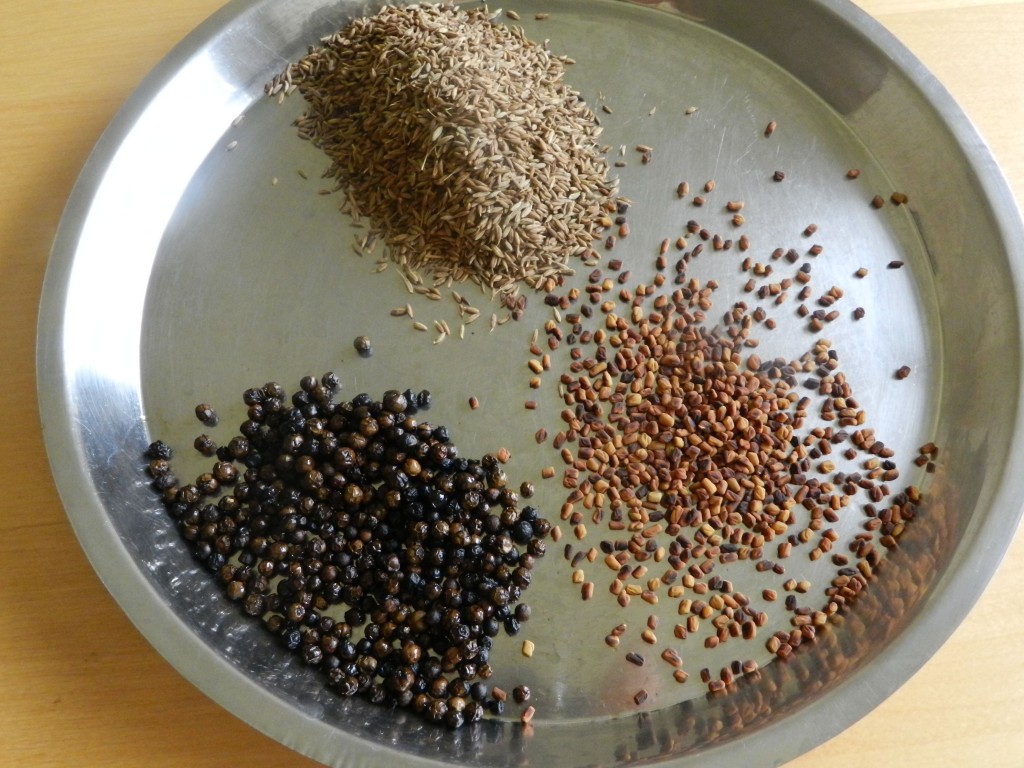 Now mix all the ingredients into one big bowl.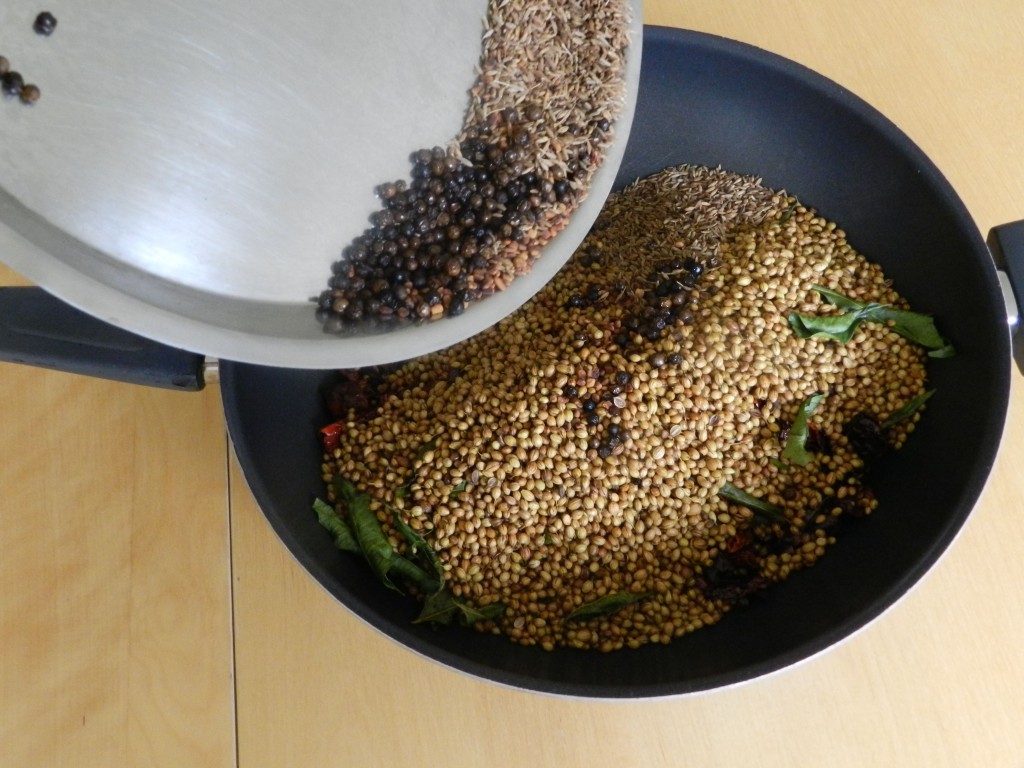 This bowl contains the deconstructed version of the powder. Right here is all the ingredient lurking in a spoonful.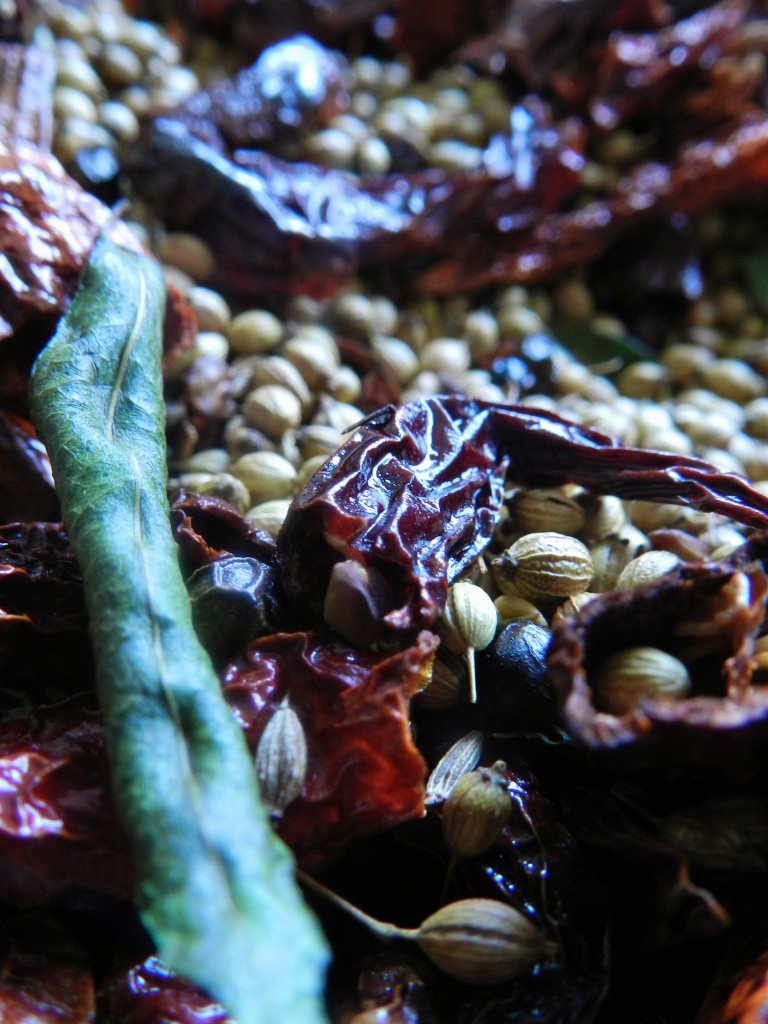 Now all that is left to do is grind the ingredients in a coffee or spice grinder.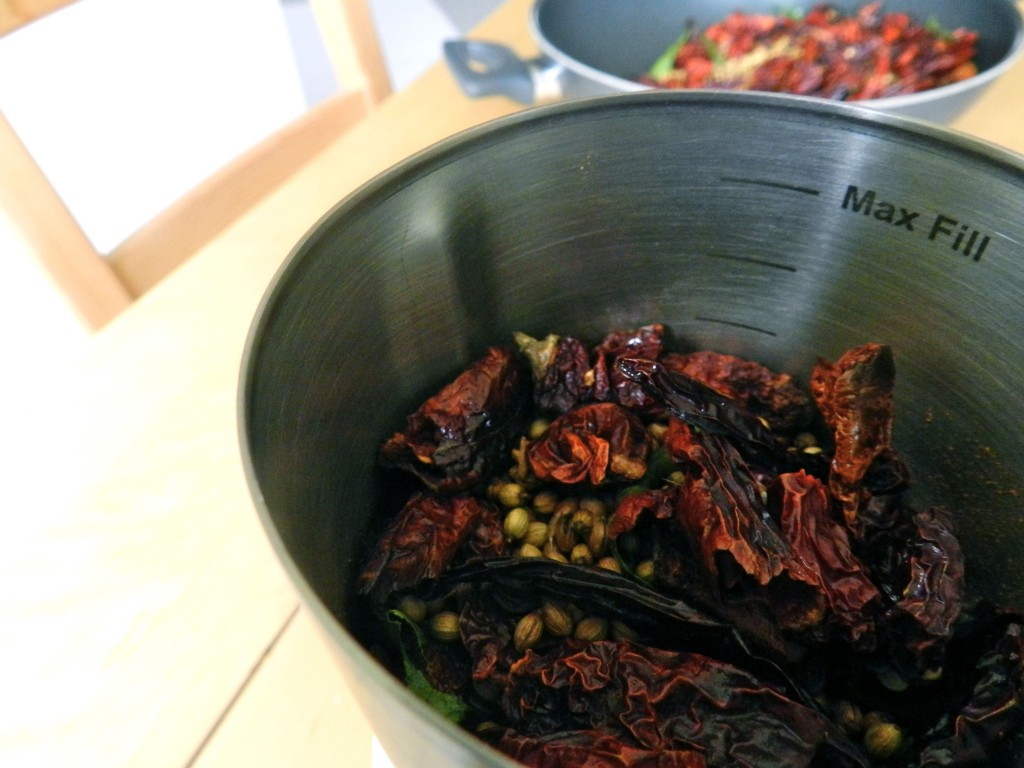 Powder it to a fine consistency…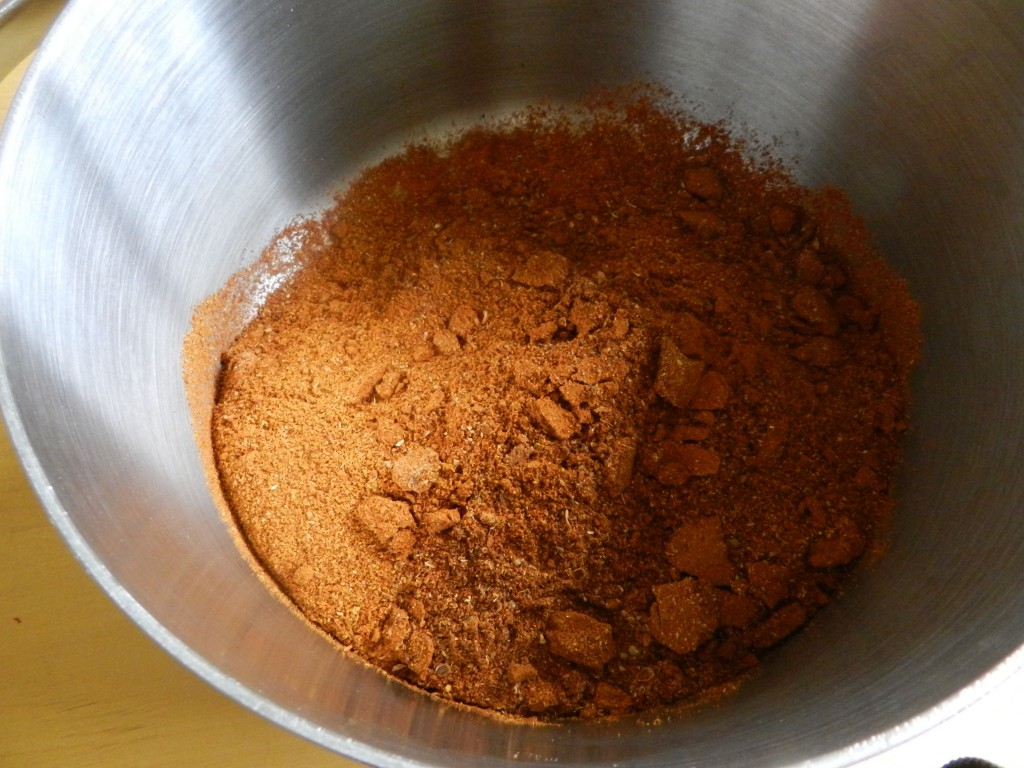 … and store in a jar. This is my Rasam Powder version 2012.
Recipe
Black Pepper – 2 tablespoons
Cumin Seeds – 5 tablespoons
Fenugreek Seeds – 1 tablespoon
Curry Leaves – 2 stalks
Coriander Seeds – 3 cups
Dry Red Chillies (Byadige variety) – 3 cups
Preparation:
Separate the curry leaves from the stalk
Break the long dry red chillies into half-inch pieces.
Method:
Heat about a tablespoon of oil in a pan and add the broken dry red chillies. Stir around and let it roast, till the chillies turn a few shades darker, the seeds turn brown, and the roasting process releases the aroma. Take it off from the flame and pour it onto a plate and let it cool.
Next add some more oil and roast coriander seeds along with curry leaves. Keep stirring till the coriander seeds turn golden brown, the curry leaves crisp up and curl, and the roasting process release the aroma. Take it off from the flame and pour it onto a plate and let it cool.
Now roast the black peppercorns with a little oil. Stir till they begin popping. Take it off the flame and pour it onto a plate and let it cool.
Now dry roast the cumin and fenugreek seeds separately. Stir each constantly, till they develop a golden brown color. Take it off the flame and pour it onto a plate and let it cool.
Combine all the ingredients and dry grind it to a fine consistency using a coffee grinder or a spice grinder.
Store in a clean and dry jar. If using it over a period of time, store the jar in the freezer. This ensures the freshness of the spices and the taste.