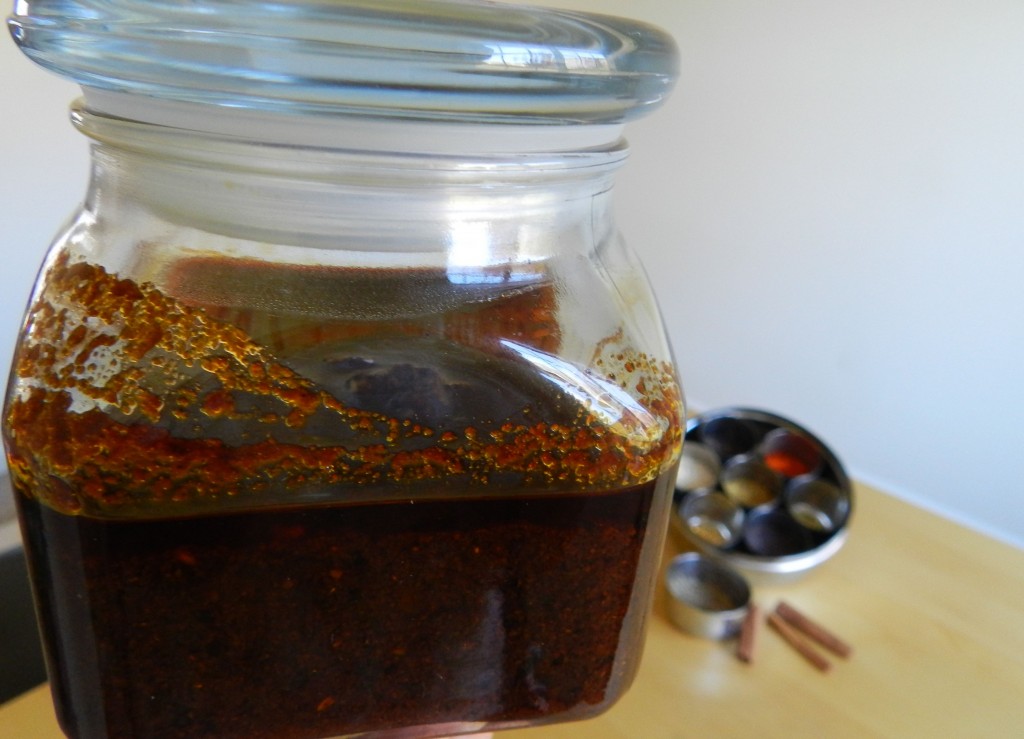 There's no puliyogare (puli in Tamil means tamarind, and ogare means rice) without the gojju or paste. The gojju is made out of tamarind juice and a sundry other spices (Note: Tamarind is gooood for you and your bones). My husband has classified my mother's gojju among the best he's tasted. Especially since, Srini is a puliyogare officiando and has tasted some of the best puliyogares available in India, assuredly found in the great and hoary temples of South India, where eager and hungry devotees queue up for prasada after God's darshana.
So, with confidence, I added it to my recipes list. To prepare the gojju or paste, you'll need the following:
Tamarind packaged – fistful or 2 tablespoons tamarind paste.
Oil – 5 tablespoons
Rasam Powder – 5 tablespoons
Jaggery – 1/2 inch chunk
Curry Leaves – 10-15 leaves
Dry Red Chillies – 3 long (break into 1/2 inch pieces)
Urad Dal – 1 tablespoon (optional)
Groundnuts – 1 tablespoon (optional)
Dry roasted cumin and fenugreek seeds – 2 tablespoons
Roast and then grind the following:
Cumin seeds – 3 tablespoons
Fenugreek – 2 tablespoons
Without further ado, here's how the gojju recipe goes:
Soak a fist full of tamarind in 1 or 1.5 cups of warm or hot water (Don't go by the quantity of water in the picture below. I took it after I had squeezed and drained a substantial part of it, which occurs later in the process. Sorry *:o).
Heat oil in a kadai or a pan.
Once the oil gets hot (gives out tiny bubbles), add mustard seeds and wait till it splutters.
Add asafetida.
Then add urad dal and dry red chillies. Fry till the urad dal turns golden. (If you want to add groundnuts to the gojju, add it before urad dal and after about 1 minute add urad dal and dry red chillies).
Stand back a little and add the curry leaves next.
Now add rasam powder. Stir the mixture.
If the tamarind is soaked in hot water, check to see if the tamarind can be handled. If so, squeeze the tamarind and make every ounce of juice is extracted from it. Pour the sour mixture into the pan along with the spices.
Add another cup of water along with salt (according to taste). The pan now should contain a slurry of bubbling goodness.
Add the cumin and fenugreek mixture.
Add the jaggery. Check the taste to see if a balance of flavor has been achieved. Else adjust.
Let the entire mixture bubble away till evaporation thickens its consistency, like so…
Once done, switch off the flame. When the mixture is cool enough transfer it to a storage jar and refrigerate.
To prepare the Puliyogare:
Cooked and cooled white rice (any kind) – 1 cup
Puliyogare gojju or paste – 2 tablespoons
Rasam Powder – 2 teaspoons
Toasted and powdered white sesame seeds – 2 teaspoons
Oil for tempering – 2 tablespoons.
Method
Add mustard to the oil, when hot.
After it splutters add groundnuts, urad dal, channa dal. Let it turn golden. Now add curry leaves and after a second, add the oil mixture to the rice.
Next add the paste, rasam powder, and powdered sesame seeds to the rice and mix it well. Add salt if required.